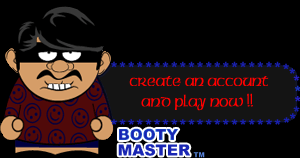 1.General
Booty Master is a FREE, multiplayer, web-based, turn-based, online game! By the moment you can see this page, it means you got everything you need to play it. Below, the game is explained in a VERY UNDETAILED and GENERAL way.
2.The Story
After some initial procedure, you find yourself as a thief! You got to steal to survive. According to your style, you may find yourself doing this for different reasons as game progresses. You may do it for money, for glory, for power or for.. fun! It's your choice which will however come heavily affected by Booty Master gameplay.
3.The Challenge
Stealing is good, but whom to steal ? And who is easy enough for you to steal ? Such should be the first questions to ask to yourself. Every system has a crack, but are you the one to crack it ? You can do what you like in this game and no one will stop you. Perhaps the police ?
4.The Game
Booty Master is a multiplayer game, so your gameplay will be affected by the way players all over the world play. Also, in Booty Master, every action, has a reaction... so always consider carefully your next move. Also, it gives you the opportunity to steal other players (or thieves :P) just like you! But this also means you got to prepare to defend yourself from future thieving attempts! You can also steal from non-person locations, which include stores,banks, even country's treasure holders!
5.Start Now!
Start playing now, and the more you play, the more you will discover!